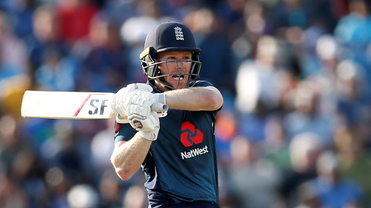 So what does an ODI captain do all day during a match? Oh, not much. He's there for the toss and gives a couple of interviews at the end, summarising why his side won or lost the game. Right?
Actually, an international cricket captain (in any format) has one of the busiest jobs in any team sport. Rivalled perhaps only by a Ryder Cup captain, but they of course have the advantage of not actually having to play.
Here are a few of the tasks in his job description.
Active at the toss
Calling 'heads or tails' is the easy bit, as is waiting to hear what his counterpart decides to do if he loses the toss. But making the right decision as to whether to bat or bowl if he wins the toss is easier said than done. Make the wrong call and you could not only lose the match but face stinging criticism for not having the read the pitch and conditions properly. Here's
He leads his troops well, is more ruthless than he seems (the Alex Hales axing being an example of that) and has a good cricketing brain but could occasionally be a little more unpredictable with his bowling changes. For example, he always bowls Moeen Ali ahead of Adil Rashid and hardly ever gives a spinner an over in the first 10 overs. There's no harm in occasionally bowling a curve ball, so to speak.
Kane Williamson of New Zealand is arguably the best of the lot. Not quite the compulsive gambler his predecessor Brendon McCullum was but still prone to setting aggressive fields when the situation arises, including often leaving at least one slip in for almost the entire innings.
Above all, his cool, phlegmatic demeanour is a calming influence on his players.
The questionable captains
I'm not sure India's Virat Kohli (below) brings much to the role. He was the obvious choice for the job when MS Dhoni decided to call it a day but he lacks Dhoni's natural instinct for what to do next and to know when to gamble. And I'm not sure his death stares when one of his players dares to misfield or drops a catch creates the switched-on yet relaxed atmosphere that allows most teams to thrive in. It says it all when just this week young wicket-keeper Rishab Pant (left out of India's WC squad) said the only thing he was afraid of in life was 'Kohli's anger'.
His record in pressure situations is nothing to write home about, either. It was on his watch that India lost a T20 World Cup semi-final to the Windies when defending a big score and on his watch again that Pakistan put a monster total on the board in the final of the 2017 Champions Trophy, which India lost. He may lead by example in terms of runs scored and fielding but he's no natural captain.
Sarfraz Ahmed of Pakistan is another who seems to lack the magic touch, particularly when it comes to trying to force a wicket. His body language doesn't do much to raise spirits, either.
How does it affect the betting?
It's hard to put an exact number on how much a good (or not so good) captain can affect the course of the match in light of all the other factors in play.
But if you're looking at the World Cup winner market without paying too much attention to price (which is a wrong thing to do of course, but just go along with it) then I'd give preference to England under Morgan than India under Kohli from among the two favourites.
It might also be worth going big on the innings runs markets when Pakistan are fielding first. We've already seen in the series against England how Sarfraz Ahmed struggles to make something happen when his bowlers are being carted around.
Lastly, I wouldn't trust India too much when it comes to defending a par or just below par score. Not only are they naturally chasers themselves anyway but Kohli has struggled in the past to either take wickets or keep the runs down, so they can be opposed as favourites when defending.
Source: Betfair Cricket